Welcome To ProDive Shop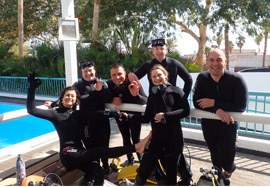 ProDive is a small family company with the mission to provide experienced divers all around the world with affordable high-quality scuba diving essentials - from scuba o-rings, battery kits, high-quality silicone grease, to personalised log books and labels.
We are diving professionals and believe scuba diving is a lifestyle. We value every single one of our customers and aim to provide only the best quality and best-priced products and services to our clients. Since we are a small business, quality, and relationship with our clients come first. Our values include mutual trust, fairness, and quality products, carefully produced by us with attention to every small detail.
Our goal is to make every customer that shops with us happy. With that in mind, we regularly check our prices against other online retailers to ensure we are competitive on all our products. Our friendly staff is always available to answer all your questions, with great attitude and consideration.
Why Choose Us
Attention to detail
Competitive prices
International shipping
Guaranteed quality
Friendly team
Our Team
We are a family of scuba divers. As such, we started our business because we understand that although scuba diving is the best sport in the world, things can sometimes go wrong. In such moments, your level of preparation can make all the difference. The products we offer are essential for every save-a-dive kit and can help scuba divers stay safe and enjoy their favorite sport.
Happy customers say
I love the brand and the team. Always a pleasure to work with them!
- Sara Sharpe - Dive Master
This shop has a wide range of o-rings and lots of useful technical information. I am a regular customer and am always happy doing business with them.
- John Ortmayer - Diving Center Owner
Great business! Would recommend to any diver for their diving essentials.
- Lara Smith - Open Water Diver
Super shop! Have an excellent range of o-rings, silicone grease, battery kits and so on.
- Steven Thomas - Advanced Diver