Scuba O-rings

are an important part of dive equipment, as they help to seal and prevent water leakage in various components such as regulators, tanks, and valves. Here is some technical information about O-rings that you should know as a diver:
Material: O-rings are typically made of rubber(NBR), Viton(FKM), or silicone, which are both durable and flexible materials that can withstand the pressure and temperature changes of diving.

Size: O-rings come in various sizes to fit different components of dive equipment. It's important to use the correct size O-ring for a particular piece of equipment, as a too-small or too-large O-ring can result in leakage or damage.

Shape: O-rings can be circular or square and are designed to fit into grooves or channels in the equipment.

Durability: O-rings are designed to be durable and long-lasting, but can be damaged by exposure to UV light, ozone, chemicals, and abrasive materials. Proper care and storage of dive equipment can help to prolong the life of O-rings.

Lubrication: O-rings should be lubricated before each dive to ensure a tight seal and prevent damage. Silicone lubricant is recommended, as it is safe for use with rubber and silicone O-rings.

Maintenance: Regular inspection of O-rings is important to ensure they are in good condition. Damaged or worn O-rings should be replaced immediately to prevent leaks and damage to the equipment.

Replacement: O-rings should be replaced when they show signs of wear, damage or if they are older than a year. It is a good idea to carry a small set of spare O-rings when diving.

By understanding the technical information of O-rings, you can ensure the proper use, care, and maintenance of your dive equipment. This will help to keep you safe and your equipment in good working condition while diving.

This O-Ring size chart provides a list of standard AS568 O-Ring sizes. Welcome to our AS-568 o-ring size chart section
Download Our Actual Scuba O-Rings Size Chart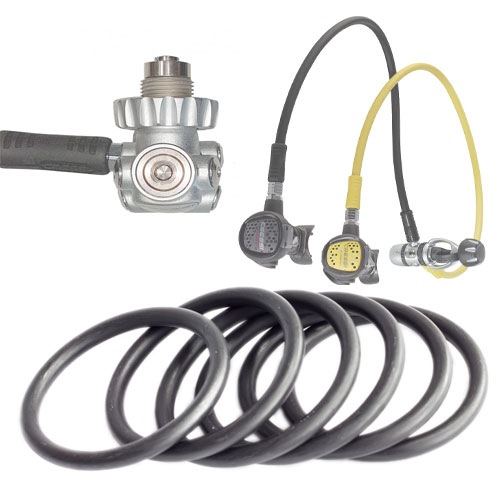 | | | |
| --- | --- | --- |
| AS-568 № | CS (mm) | ID (mm) |
| -001 | 1.02 | 0.74 |
| -002 | 1.07 | 1.27 |
| -003 | 1.52 | 1.42 |
| -004 | 1.78 | 1.78 |
| -005 | 1.78 | 2.57 |
| -006 | 1.78 | 2.9 |
| -007 | 1.78 | 3.68 |
| -008 | 1.78 | 4.47 |
| -009 | 1.78 | 5.28 |
| -010 | 1.78 | 6.07 |
| -011 | 1.78 | 7.65 |
| -012 | 1.78 | 9.25 |
| -013 | 1.78 | 10.82 |
| -014 | 1.78 | 12.42 |
| -015 | 1.78 | 14.0 |
| -016 | 1.78 | 15.6 |
| -017 | 1.78 | 17.17 |
| -018 | 1.78 | 18.77 |
| -019 | 1.78 | 20.35 |
| -020 | 1.78 | 21.95 |
| -021 | 1.78 | 23.52 |
| -022 | 1.78 | 25.12 |
| -023 | 1.78 | 26.7 |
| -024 | 1.78 | 28.3 |
| -025 | 1.78 | 29.87 |
| -026 | 1.78 | 31.47 |
| -027 | 1.78 | 33.05 |
| -028 | 1.78 | 34.65 |
| -029 | 1.78 | 37.82 |
| -030 | 1.78 | 41 |
| -031 | 1.78 | 44.17 |
| -106 | 2.62 | 4.42 |
| -107 | 2.62 | 5.23 |
| -108 | 2.62 | 6.02 |
| -109 | 2.62 | 7.59 |
| -110 | 2.62 | 9.19 |
| -111 | 2.62 | 10.77 |
| -112 | 2.62 | 12.37 |
| -113 | 2.62 | 13.94 |
| -114 | 2.62 | 15.54 |
| -115 | 2.62 | 17.12 |
| -116 | 2.62 | 18.72 |
| -117 | 2.62 | 20.29 |
| -118 | 2.62 | 21.89 |
| -119 | 2.62 | 23.47 |
| -120 | 2.62 | 25.07 |
| -121 | 2.62 | 26.64 |
| -122 | 2.62 | 28.24 |
| -123 | 2.62 | 29.82 |
| -211 | 3.53 | 20.22 |
| -212 | 3.53 | 21.82 |
| -213 | 3.53 | 23.39 |
| -214 | 3.53 | 24.99 |
| -215 | 3.53 | 26.57 |
| -606 | 1.02 | 1.78 |
| -610 | 1.78 | 6.75 |
| -611 | 1.78 | 8.73 |
| -614 | 2.62 | 11.91 |
| -902 | 1.63 | 6.07 |
| -903 | 1.63 | 7.65 |
| -905 | 1.83 | 10.52 |
| -906 | 1.98 | 11.89 |
| | | |