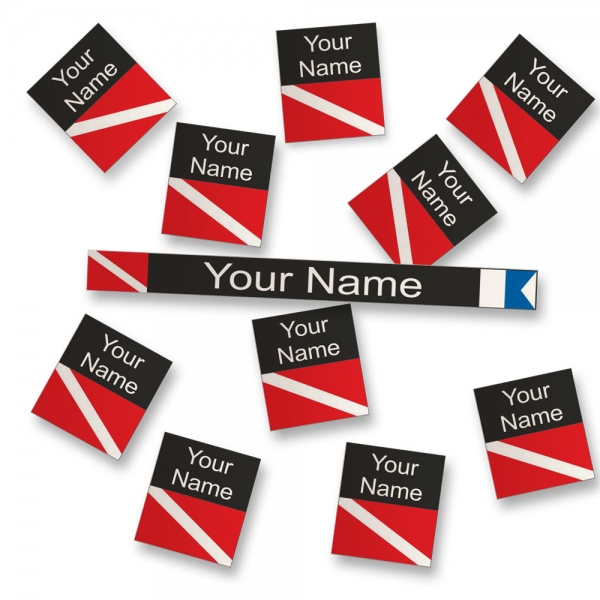 Personalized Sticker Labels for Diving Gear Identification - Black
Product Code:
0682318789481
OverView
Product Description
Personalized Labels for Diving Gear Identification - Black background

Any scuba diver who's been boat diving (especially on a crowded boat) knows that everyone's gear looks the same and gets mixed up into one big pile. What to do? Some divers mark their gear with paint or Sharpe, but it wears off and looks ugly. Some don't mark their gear at all, and it disappears.
These Personalised Labels with your name make identifying your gear in and outside the water much easier.
Perfect for identification of your diving gear - in and outside of the water. A must-have for every professional or amateur diver.

Don't lose your equipment ever again - recognize and pick up your gear quickly on the diving boat or in the diving center. The stickers make identifying similar gear easy and help lost gear be returned back to you.

A great gift idea for every scuba diving lover. The best way to make your buddy happy with a personalized present.

Perfect for a range of activities like diving, snorkeling, spearfishing.
Specifications:
The labels are printed on high-quality durable waterproof vinyl sticker sheets (total 172 stickers).
Resistant to water, fading, and scratching.
Strong resistant adhesive, stick to any smooth surface.
Machine cut, with rounded edges.
172 Stickers to one-sheet

44 pcs. 76,2 x 8 mm.

56 pcs. 38 x 4,8 mm.

48 pcs. 21 x 19 mm.

24 pcs. 14.3 x 14.3 mm.
Customization
Your personalized text/name should be 15 characters maximum. Possible text & logo compression should be considered if the text is too long.
Customize it with your own name email telephone or company name, add your logo and make it the great label
Please write your name, phone number or anything else in the Text area to print on your stickers
or Please leave MESSAGE
or Add Comments About Your Order
Please Note: All of the labels on the sheet have to be the same details.